Does your child struggle with:
Behavior acting out in public and school, hitting, not listening, throwing things.
Sometimes withdrawn, emotional and defiant.
Hitting and aggressive behavior, some awful words being spoken
Depression, anxiety, sleeping, negative thoughts toward self
Defiant behavior and talking back when told to do something or not to do something and having major meltdowns.
Stop playing behavior whack-a-mole with your child's most baffling behaviors by finally addressing the real problem!
Introducing Being With: A Course for Parents Dealing with Big, Baffling Behaviors
This 18-hour, live online course will teach you what behavior really is, and how to change it.
Being With: A Course for Parents Dealing with Big, Baffling Behaviors is based on the science of being relationally, socially, and behaviorally human. This course will make your child's behavior make sense- even the ones that don't. You'll become equipped with interventions, tools, and techniques- that actually work! And in this no-shame, no-blame approach to parenting, you'll finally understand why knowing is only half the battle. The course is strategically designed so you don't just learn a bunch of parenting tools and techniques. By the end, you'll actually be able to do the powerful techniques you'll learn.
This course will benefit all parents but is specially offered for parents of kids with vulnerable nervous systems and baffling behaviors. This includes children with a history of trauma and toxic stress (including foster care and adoption), as well as children who are neurodivergent, gifted, have sensory processing differences, or have neuroimmune disorders. You might not know why your child has a vulnerable nervous system, and that's OK. This course is for you, too.
This course was developed and is being presented with permission from Robyn Gobbel, LMSW clinical.
The three core tenets of Being With: A Course for Parents with Big, Baffling Behaviors
Behavior is just a clue.  It's what we see on the outside that gives us some information about what might be happening on the inside.
We all need connection to survive. If your child behaves in a way that makes us not want to be connected to them, we can pause and ask "What's up with that?"
Regulated, connected kids who feel safe behave well. To change children's behaviors, we will look for ways to increase regulation, connection, and felt-safety.  
Section 1- How to Become the Expert in Your Child's Behaviors. Using the science of being relationally, socially, and behaviorally human, this section will demystify the most baffling behaviors. You'll change how to see and interpret your child's behavior. That change will become the most powerful tool in your parenting toolbox.
Section 2- Now, Let's "Fix" Those Behaviors. Your parenting toolbox will be stuffed with brain, body, and sensory strategies- that actually work. These techniques will strengthen your child's nervous system and decrease baffling behaviors. Better yet, by the end of this section, you'll know what interventions to use and when.
Section 3- Why Knowing Isn't Even Half the Battle. You aren't a bad parent, so what happens between learning new parenting skills and actually using those new parenting skills? Section 3 will grow your tolerance for baffling behaviors so you can parent the way that you want to.
About Your Trainer:
Kim Feeney, LISW, RPT-S, has been working with children and families since 2001 to help them lead healthier emotional lives so they can enjoy being with each other. She believes the connection between the parent (caregiver) and child is the most important piece of the relationship.
In her work as a play therapist, she has helped kids with trauma, aggressive behaviors, and other emotional and behavioral challenges to improve their symptoms and lead lives full of connection, capability, count, and courage. Helping clients and families to gain insight into their ways of thinking, feeling, and behaving, Kim has worked with hundreds of children and families throughout her career.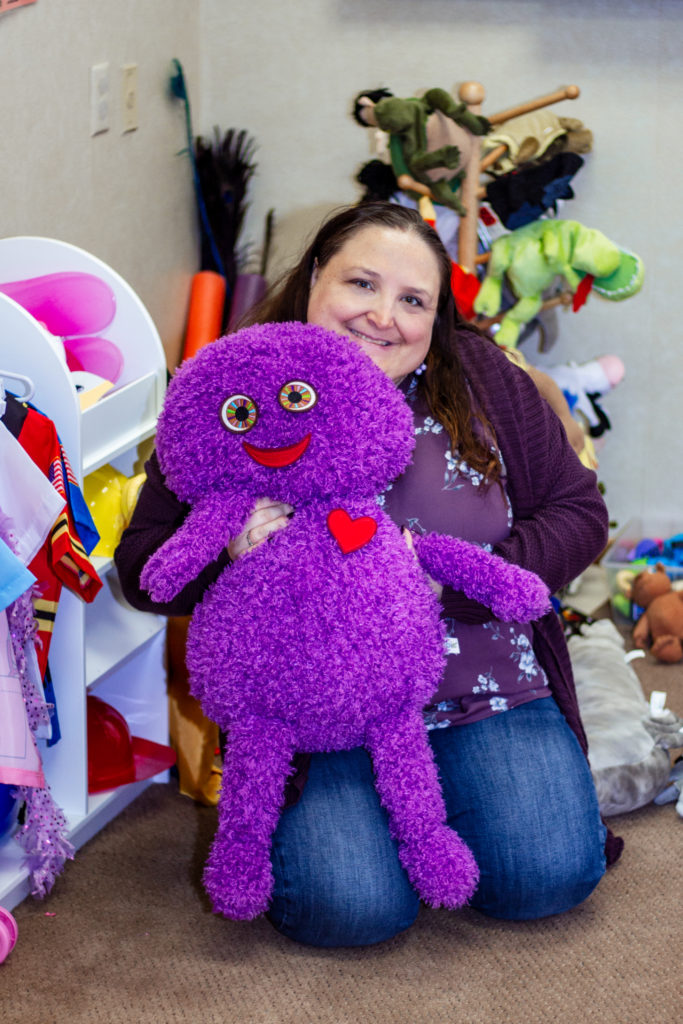 THIS COURSE IS RIGHT FOR YOU IF YOU ARE…
Ready to move past behavior intervention techniques
Longing to find a way to see your child's true self….even if they never show it to you
Willing to do the hard work of looking inward to move onward
THIS COURSE MIGHT NOT BE THE BEST FIT IF YOU ARE…
Looking for the right behavior intervention to change your child's behaviors
Most comfortable with consequence-based parenting interventions
Not interested in considering and addressing the underlying cause of difficult behaviors
Parenting a child with chronically dangerous behaviors (violence, aggression, substance abuse, sexual acting out, self-injury, etc.)
What's Included: (Basic)
18 hours of parent training
An 86-page digital workbook
A private Facebook Community to engage with me, as well as fellow parents and caregivers between sessions
What's Included (VIP)
Everything included in the basic course
PLUS
A 60-minute one-on-one consultation (online or in-person) with me to discuss your child's unique behaviors
Unlimited Voxer access to me for the duration of the course
BONUS! Register by August 1, 2023, and receive access to my Webinar for Parents: Supporting Your Child Through Anger, Sadness, and Worry
Schedule:
This course is taught online over 4 Sundays from 9 am- 4 pm CST (includes a 1-hour lunch break).
Sept 10, 2023 (Section 1)
Oct 1, 2023 (Section 2)
Nov 5, 2023 (Section 2 continued)
Dec 3, 2023 (Section 3)
Cost: (Basic)
payment in full of $997 or 4 payments of $260
(VIP) payment in full of $1297 or 4 payments of $350
Add an additional parent or caregiver in the same family for only $97!
It's time to start Being With your children. I want to bring joy and fun back into your relationship with your child.
FAQ:
Is there a recording available if we have to miss a class or part of a class?
Yes, the classes will be recorded and made available to all participants.
Can my partner attend as well?
A parent or caregiver from the same family can be added to the course for an additional $97.
What behaviors is this class designed to help?
All children can benefit from a stronger parent-child connection. Behaviors addressed in the course will be extreme dysregulation (physical or verbal aggression, running away, throwing things, isolation, withdrawal, and disassociation).
I'm not sure yet, what should I do?
Email me at Kim@butterflybeginningscounseling.com with any questions or concerns or schedule a 15-minute call at https://calendly.com/butterflybeginnings/being-with-discovery-call
The time is now to create a stronger connection with your child and decrease the dysregulated behaviors in your home.